Craps, a thrilling dice game played in casinos around the world, has captured the imaginations of both seasoned gamblers and novices seeking their fortune.
Within this high-energy atmosphere, a select group of individuals have risen to legendary status through their exceptional skill and remarkable achievements at the craps table.
From masterful dice controllers to record-breaking rolls, these notable craps players have left an indelible mark on the game, shaping its strategies and captivating the gambling community.
Starting with the best craps player in the world…
Dominic Loriggio – "Dominator"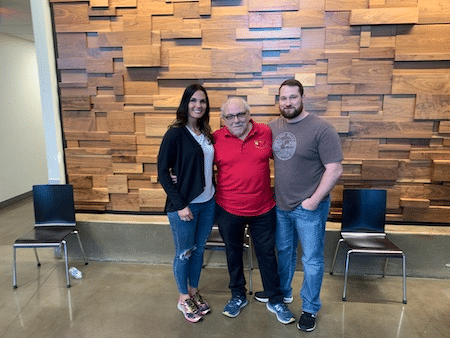 Dominic Loriggio, known as "The Dominator", or simply "Dom" is a renowned figure in the world of craps. His exceptional skills in dice control and strategic play have made him a legend among craps enthusiasts.
My wife and I had the pleasure of meeting him in Las Vegas while attending one of his seminars. The man can throw some dice!
Professional craps players don't really exist or are at least few and far between. Dom is a pro.
Loriggio gained widespread recognition through his feature on the History Channel's documentary series, where he showcased his mastery of dice control. His live demonstration for the History Channel crew highlighted his ability to manipulate the outcome of the dice through skillful throws and precision control. Even tossing specific dice combinations "on-demand".
The program provided an in-depth look at Loriggio's approach to the game, and replicated what History Channel crew members were able to witness for themselves. Further solidifying his reputation as "The Dominator."
Building on his expertise, Loriggio co-founded Golden Touch Craps, a highly regarded craps education and training company. Through Golden Touch Craps (GTC), Dom offers seminars, workshops, and instructional materials dedicated to dice control, strategic betting, and overall game mastery.
The company has attracted a loyal following of craps enthusiasts seeking to enhance their skills and increase their chances of success at the tables. Many of his students attend multiple seminars, usually just for the chance to play with Dom at the tables.
Dominic Loriggio's contributions have had a lasting impact on the perception and practice of dice control in craps. His feature on the History Channel, along with his involvement in Golden Touch Craps, solidified his status as an authority in the field. His expertise and proven techniques continue to inspire and educate aspiring craps players worldwide.
Patricia Demauro
Patricia Demauro, a grandmother from New Jersey, made gambling history with her extraordinary craps roll at the Atlantic City Borgata Hotel Casino in 2009. In a stunning display of luck, Demauro rolled the dice an astonishing 154 times over four hours and 18 minutes, defying the odds and avoiding the dreaded "seven-out" roll.
Patricia currently holds the title for the longest craps roll in history.
The probability of completing 154 rolls without a seven-out is extremely low, highlighting the remarkable nature of Demauro's achievement. Her record-breaking roll captivated the gambling world, sparking discussions about the interplay of luck and skill in craps.
Demauro's feat reinvigorated interest in dice control strategies among craps players, who sought to emulate her success. Her name has become synonymous with craps legends, serving as a testament to the extraordinary possibilities that can unfold at the craps table.
Stanley Fujitake – "Golden Arm"
Stanley Fujitake, known as the "Golden Arm," achieved legendary status in craps with an incredible three-hour and six-minute dice-rolling streak at the California Hotel and Casino in Las Vegas in May 1989.
Born in Hawaii, Stanley Fujitake had a humble background and worked as a bellhop at the California Hotel and Casino in downtown Las Vegas. It was in this very casino, on a fateful night in May 1989, that Fujitake would embark on an astonishing winning spree that would be etched in the annals of gambling lore.
His precise control and skillful dice setting captivated spectators and set a new standard for craps excellence. Fujitake's extraordinary performance, fueled by his unique technique and ability to avoid rolling a seven, solidified his place in gambling history as one of the most revered dice controllers.
His remarkable roll continues to inspire gamblers worldwide, showcasing the thrilling possibilities at the craps table. His record stood until 2009, when Patricia Demauro went on her incredible streak.
Howard – Rock-n-Roller
Howard's journey into the world of craps began in 1980, but it wasn't until the 1990s that he stumbled upon dice setting. Witnessing a successful shooter utilizing this technique, Howard became determined to master it himself. He devoured gambling books until he discovered "Casino Gambling," which explained the dice setting and dice control technique known as the "Sharpshooter."
Howard dedicated countless hours to practicing and refining his skills, eventually becoming proficient enough to join the PARR dice control class taught by Sharpshooter. Excelling in the class, he was soon invited to become an instructor and coach.
In 2003, Howard left the PARR group and partnered with Golden Touch Craps (GTC), a renowned dice control group led by Frank Scoblete and Dominator.
As an instructor with GTC, Howard taught hundreds of students how to gain an advantage in craps through dice setting and influencing.
He achieved impressive records, including five straight days with hour-long rolls in Tunica, MS. Howard's controlled toss, characterized by a gentle touch and consistent precision, earned him membership in GTC's 50, 60, 70, and 80 roll clubs.
He gained a reputation as the "Babe Ruth of dice control" due to his extended rolls and frequent success in hitting challenging combinations.
Residing in Florida, Howard enjoys frequent cruises, and his craps skills often pay for his vacations. On one cruise from Miami to Cozemul, Mexico, he achieved an impressive 65 roll hand at the craps table.
Howard's expertise garnered recognition in the gambling world. He was rated as one of the top 10 dice controllers in the nation by Casino Player Magazine and featured in various dice control articles.
He also appeared in books such as "The Craps Underground" by Frank Scoblete, "Golden Touch Dice Control Revolution" by Frank Scoblete and Dominator, and "Wong on Dice" by Stanford Wong.
Additionally, Howard shared his knowledge as a craps expert on television and radio and was featured in JackPot and Harpers magazines.
Presently, Howard utilizes his expertise to offer individual and group lessons in South Florida. You can find Howard on his website.
Final Thoughts
In the dynamic world of craps, these exceptional players have left an enduring legacy, redefining what is possible at the craps table.
Dominic Loriggio's mastery of dice control, Patricia Demauro's record-breaking roll, Stanley Fujitake's legendary 'Golden Arm,' and Howard's pursuit of perfection in dice setting have all contributed to the rich tapestry of craps history.
As the dice tumble and fortunes are wagered, the stories of these notable craps players remind us of the thrilling possibilities and the fascinating blend of luck and skill that make craps an enduring casino classic.
Check out my other articles to learn more about dice control techniques and how to avoid the seven.
Good luck at the tables.